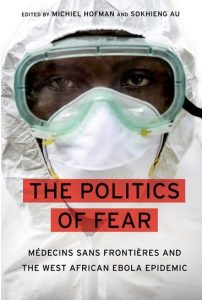 The Politics of Fear
Médecins sans Frontières and the West African Ebola Epidemic
Edited by Michiel Hofman and Edited by Sokhieng Au
Oxford University Press
Alice Desclaux, Stéphane Doyon, Khoudia Sow, and Almudena Mari Saez.
Section IV. (Im)mobility
Care or containment? Field practices and perceptions of norms for contact follow up.
Published: 01 March 2017 (Estimated)
304 Pages
Desclaux A, Diop M, Doyon S,
Fear and containment. Contact follow up perceptions and social effects in Senegal and Guinea.
In : Au S, Hofman M (eds), The politics of fear: MSF and the West African Ebola epidemic, Oxford University Press, pp. 209-234
Desclaux A, Diop M, Doyon S,
Peur et confinement. Perceptions du suivi des contacts et effets sociaux au Sénégal et en Guinée.
In : Au S, Hofman M (eds), La politique de la peur: MSF et l'épidémie d'Ebola en Afrique de l'ouest, La renaissance du livre, pp. 277-306
Remme, J.H.F., Boatin, B. & Boussinesq, M.
Helminthic Diseases: Onchocerciasis and Loiasis. In: The International Encyclopedia of Public Health, 2nd edition. vol. 3, Quah, S.R. and Cockerham, W.C., eds., Oxford: Academic Press, pp. 576–587.
Hancart Petitet P.
Vivendo com HIV no Camboja. Lidar com Reprodutivos Normas, Tecnologias e desejos … e Vida Diária. In Sacramento, Octávio & Ribeiro, Fernando B. (Orgs.), Planeta Sida: Expressões Multiculturais Da Pandemia, Politicas Publicas E Respostas Sociais, Ribeirão: Edições Húmus ( Portuguese). 2016, Pp:  235-254.
Hancart Petitet P.
Living With HIV in Cambodia. Coping with Reproductive Norms, Technologies and Desires… and Daily Life in Sacramento,
Octávio & Ribeiro, Fernando B. (orgs.), Aids Planet, 2017.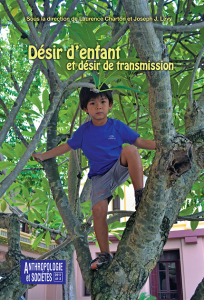 Hancart Petitet P.
Du (non) désir d'enfant. (Re)production humaine et violence structurelle au Cambodge.
Dans : « Désir d'enfant et Transmission »
Sous la direction de Laurence Charton, Joseph J. Lévy
Anthropologie & Sociétés. Volume 41, numéro 2, 2017
Hancart Petitet P. avec Vanphanom Sychareun.
From Anthropological research to a radio program production: Ethical dilemmas raised by HIV related research in Laos.
Dans Les voies de l'éthique de la recherche scientifique dans la région du Mékong – Théories et pratiques dans les domaines de la santé, de l'environnement et des sciences humaines et sociales.
Publication IRD.
Hancart Petitet P., Pordié L.
Birth in Shun Shade. Notes on the role of the amchi regarding childbirth.
Dans Pordié (Dir). Healing at the Periphery. Ethnographies of Tibetan Medicine in India, Durham & London : Duke University Press
Faye SL, Ndoye T, Desclaux A, Eboko F, Egrot M, Taverne B.
Epidémies en Afrique de l'Ouest et du centre, 2017. In : Vidal L (coord.).
Renforcement de la recherche en sciences sociales en appui des priorités régionales du bureau Régional Afrique de l'Ouest et du centre de l'Unicef : analyses thématiques. Dakar (SEN),
Dakar : IRD, Unicef, 2017, p. 60-86.
D'arc M, Etienne L, Delaporte E, Peeters M.
Origin and emergence of HIV/AIDS Genetics and Evolution of Infectious Diseases, Second Edition 2017, Edited by Michel Tibayrenc ; Elsevier